---
Discover the results of the final event!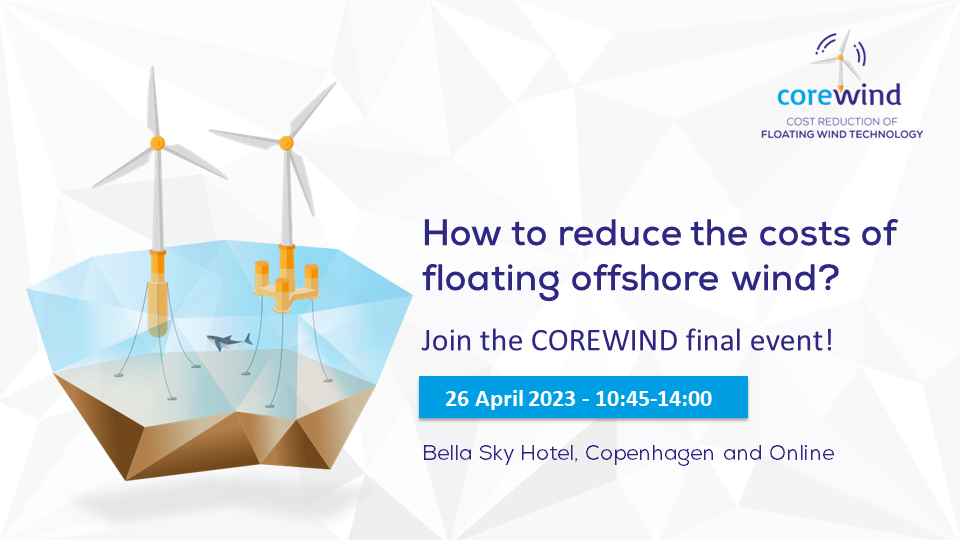 FIND OUT MORE
---
FIND OUT MORE
---
Webinar: Breakthrough research for floating wind
Floating offshore wind is no longer consigned to the laboratory: it's a viable technology ready to be rolled out on an industrial scale. Not only has the technology for floating offshore wind reached maturity, costs are also predicted to plummet with the development of the first commercial projects.
The COREWIND project provides disruptive and cost-effective solutions for floating offshore wind technology, leading to costs lower than 100€/MWh. This innovative project is developing research, modelling and optimization for concrete-based semi-submersible and spar floating structures concepts. Join floating offshore experts from IREC, INNOSEA, Ramboll, IHCantabria and other partners in COREWIND to know more!
---
Disclaimer:

Views and opinions expressed are however those of the author(s) only and do not necessarily reflect those of the European Union or CINEA. Neither the European Union nor the granting authority can be held responsible for them.
Project details
Duration: 1 Sep 2019 – 28 Feb 2023
Grant agreement:
No: 815083